Sam Smith Speaks Out About His Struggle With Self-Acceptance and Men's Body Positivity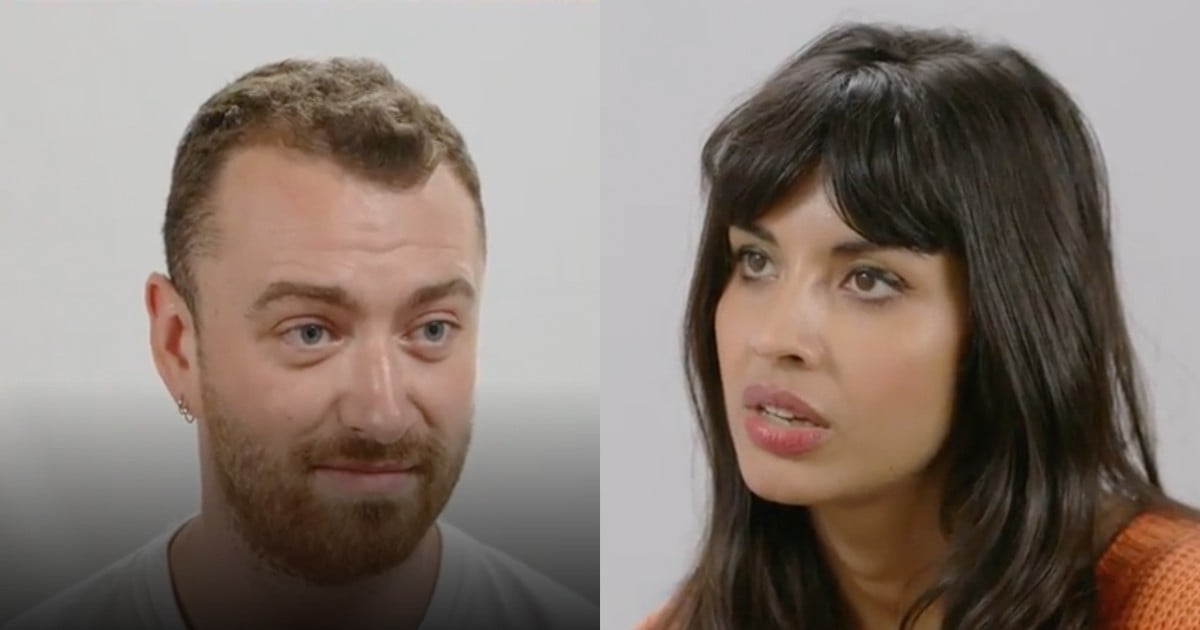 At 26, Sam Smith has officially opened up about his struggle with body image issues and self-acceptance as part of the very first episode of The Good Place star Jameela Jamil's Instagram series I Weigh Interviews. "My whole life, I've struggled with my body and my relationship with it," Smith told Jamil. The "Stay With Me" singer first opened up about his unhealthy relationship with food in 2015 when he quickly lost 50 pounds after taking control of his emotional eating issue. But, today, Smith insists that he still has a long way to go before he is truly happy with himself.
"When I was a kid, I was chubby . . . I used to get my mum to write notes to the school, when I was like 8, so I wouldn't have to go to swimming lessons, because I'd have to hold my chest [to cover it up]," Smith said, pointing out that he was often bullied for his weight and another boy even humiliated him on the playground by grabbing his "breasts" at one point. "It was horrible," he recalled. At only 12 years old, Smith underwent a liposuction procedure on his chest, but quickly gained the weight back because he had yet to develop a healthy understanding of his relationship with food.
Four years later, Smith dropped a significant amount of weight and experienced an unfamiliar surge of confidence. "At 16, I stopped wearing boys' clothes and I would wear leggings, fur, and full makeup everyday to school," Smith said. "Because it was such a small village and the town that I went to school in was so small, I was a big fish in a small pond, and I turned into the gay clown, basically."
After high school, Smith said he struggled as an 18-year-old gay man in London, but his views on his own sexuality have helped him to better understand his relationship with his body and to identify himself as nonbinary or genderqueer. "You're a mixture," Smith said in regards to gender. "You're your own special creation. That's how I take it. I'm not male or female. I think I float somewhere in between. It's all on a spectrum." But Smith's sexuality — which he came to terms with at age 10 — has never been nearly as big of an issue as his body image. "It's weird how I was that confident and then it all just went south after that . . . Literally, all I've ever been sad about is my weight."
Following the success of his first album In the Lonely Hour (2014), Smith says it was the paparazzi that brought his weight gain to his attention when a fat-shaming picture of him shirtless at the beach began to circulate. "I spent all my money on food," he said. "When I got sad, to cheer me up, I'd go for a nice meal somewhere. It got worse and worse, and then it was like binging." Smith added that his body dysmorphia — a mental disorder in which people hyperfixate on perceived flaws in their appearance — affects the way he perceives his body and his weight. Still, when he purposely worked to shed the 50 pounds, his fans were proud of him for losing weight because the media was using his weight loss as a reflection of his success. "My first album was about being lonely, and I can't look lonely. If I look fat, I look lonely."
"When it comes to money and success, I feel like a 40-year-old. When it comes to my romantic life, and my personal relationship with my body and my head, I feel a confused 16-year-old boy. So it's hard."
"A big part of me being happy recently has been me giving into the fact that I am a human being," Smith said. He also explained that being a part of communities like I Weigh has allowed him to recover more quickly from bouts of depression triggered by body-image issues. I Weigh is a community with the purpose of encouraging people to place value on one another not for how much they weigh or what their bodies look like, but for their personalities and accomplishments as individuals. Smith, who started therapy one year ago, says he's found solace in being part of such an accepting community, and encourages everyone, no matter how masculine, to give themselves a break and talk about their emotions. "I haven't really found any men talking about [body issues] if I'm completely honest — especially no well-known men," Smith said. "When it comes to money and success, I feel like a 40-year-old. When it comes to my romantic life, and my personal relationship with my body and my head, I feel a confused 16-year-old boy. So it's hard."
As far as how he plans to further his journey of self-acceptance in the future? "I think I'm going to start to live very loudly," Smith said. "My mindset at the moment is just f*ck it. F*ck everyone. F*ck everything. I am going to be myself to the end and I'm going to make mistakes in front of everyone because I'm famous and hiding it is too exhausting."